Customer Reviews
Write a Review
Ask a Question
LOVE
I love the color and you can't beat the quality
05/11/2022
Beth R.

United States
Tie dye collar D-ring issues
I bought the set and love it except the D-ring is already chipping from attaching the leash . I emailed before I purchased and asked what material it is made from because my golden tends to turn gray from certain metals. The black coating seemed perfect but it started chipping the first day. My daughter bought a set for her dog and hers is chipped as well.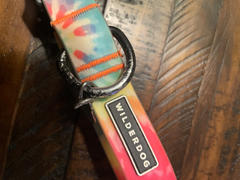 05/10/2022
Ann P.

United States
My dog doesn't smell like rotten trash anymore!
I wish that headline was being facetious. My dog's favorite hobby is rolling in mud, followed closely by swimming in any and every body of water. While getting her clean is fairly easy since she can just go swimming, that collar is another issue entirely. Her collars have historically been perpetually wet and therefore smell like last week's rotten garbage. Her new Wilderdog collar allows her to be rough and wet and gross and then two seconds later at least my problems with the smelly collar are gone (obviously she is kind of a mess always). It is tough, I'm not worried about it getting snagged or breaking. It looks sharp. It is not a bacteria infested necklace that she can rub all over my car and house. So all in all, it is a win.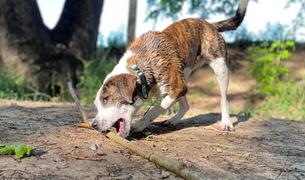 05/10/2022
Anonymous

Canada
Love it
Love our new collar. We wish the topography lines were a bit more obvious or were reflective, but otherwise, we haven't had any problems with our pup wearing a stinky wet collar.
05/09/2022
Anonymous

United States
Waterproof collar
Love the new waterproof color. It looks beautiful on my pup and is very easy to clean when she decided to be adventurous in the mud!