Customer Reviews
Write a Review
Ask a Question
Nice quality
It seems like a nice quality. I like the security of the carabiner and I like that you can tie a knot anywhere on the leash and make a shorter handle.
09/24/2021
Anonymous

Canada
Great quality!
Love the look of this leash and it's made with great quality material. Big fan of the carabiner.
09/15/2021
Joanna M.

United States
Easy to use
This leash is amazing soo easy to Clip on her wilder dog harness. It is also great on walks I don't worry if she pulls to hard that she will break the clasp.
09/14/2021
John K.

United States
Best Leashes out there!
I have 4 of the ten foot\large carabiner leashes that I use with my two dogs as well as clients' dogs (I'm a professional dog trainer). I like many others believe in the value of letting our dogs sniff and explore while on walks. Sometimes we need them close to us, but most of the time I prefer to let my pups explore a bit as we walk. The rope leashes are the perfect length, are very durable, water resistant (we live near Seattle :), and comfortable sliding across my palm as I give slack or call my pups closer to me - a perfect mix of attributes. I also have three of the 6ft biothane leashes which I use when we are walking in a more urban environment….where 10 ft of freedom is a bit much. I love the biothane as they are water\smell proof and have held up very well to my puppy's biting…..she went through a leash biting phase ;) Did I mention that they are absolutely gorgeous?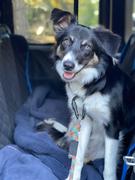 09/07/2021
Taylor M.

United States
Love
This leash is perfect for our pit mix, it takes away any fear of him getting hurt because he got off his leash